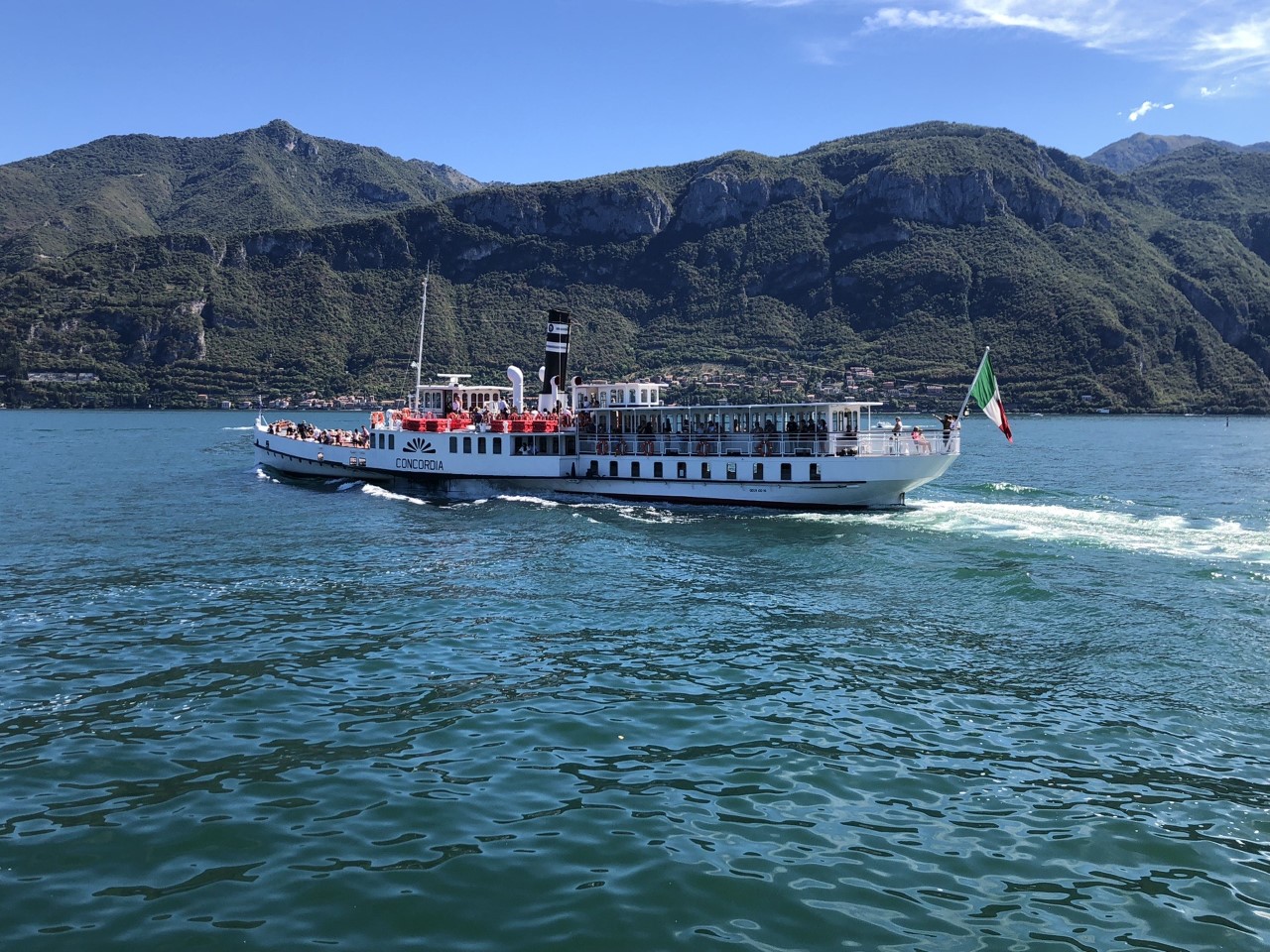 Vintage train or steamship? Try them both!
Lake Como
Treno+Battello
An exciting journey into the past, in the fantastic setting of Lake Como
At times it takes very little to travel: an image and you're off… your imagination runs away with you, travelling the whole world in the bat of an eye.
Here's an image, let's see where it will lead: a steam locomotive billowing steam slowly pulls out of the station and fades into the horizon, leaving behind only the sound of its distant whistle. Would you prefer a steamship? Now, envisage a similar scene, but without a station and an even more spectacular backdrop, perhaps at sunset.
Now imagine: where is that train going? Where is that steamer headed? Where does your imagination take you? It takes you to a different time, to the era of the great Industrial Revolution, when the power of steam fuelled great strides forward towards new and revolutionary means of transport.
Well, know that those images, sounds and colours fading into the horizon are not just in your mind but can be transformed into reality. Vintage trains and steamships continue to exist, allowing anyone to climb aboard and enjoy a wonderful journey lost in the evocative atmosphere of the 19th and early 20th centuries.  
The golden years of the Industrial Revolution and of progress have been brought back to life thanks to the restoration of historic modes of transport, now in impeccable working order, offering an experience of yesteryear to all who seek it.
Navigazione Laghi and Fondazione FS: a "historic" collaboration
Navigazione Laghi and Fondazione FS have formed a partnership that, with two distinct itineraries, unites historical modes of transport. Trains and boats, symbols of the progress of mankind in times gone by, still offer us the opportunity to embark on a fascinating journey through the beauty of the landscapes of Lombardy and Piedmont and the splendid settings of Lake Como and Lake Maggiore.
Deciding your destination is therefore the first step. And for many of you who choose to head to Piedmont and to whom we recommend this itinerary, there will be equally as many who opt for the peace of mind that only Lake Como can give.
So, for these people, the second step will be the one that takes you on board the Lario Express.
This choice promises to deliver emotions and experiences that are difficult to forget.
On Lake Como on board the Steamship "Concordia"
Destination Lake Como, a place reminiscent of Manzoni and a favourite spot, even today, of tourists and visitors from around the globe, including Hollywood stars captivated by the breathtaking beauty of its landscapes.
A perfect destination for a journey on board trains that have left their mark on history and on a steamship that, as we'll see, embraces the passage of time and continues to proudly and impressively glide across the waters of Lake Como.
Lario Express: a vintage electric locomotive for reaching Como
The trip towards the lake leaves from Milan Central station and ends in Como San Giovanni, stopping, during the journey, at various place in Brianza: Monza, Lissone, Desio and Seregno, which can be therefore chosen as alternative departure points to Milan.  
The Lario Express, which operates on the Milan-Como route, is equipped with a vintage electric locomotive that pulls historic Centoporte carriages from the 1930s. The thrill of boarding this "piece" of history promises to leave its mark. And don't worry, we promised you a steam train… that will come too, you'll see!
In any case, after arriving in Como, you'll move along the lake promenade to Piazza Cavour, where the Steamship "Concordia" will be impatiently waiting to warm up its engines.
Steamship "Concordia": a return in grand style
Stepping aboard the Steamship "Concordia" is an experience that must be savoured to the full. This vessel, constructed in 1926 by Cantieri Navali Odero shipyard of Genoa, preserves Art Nouveau style interiors and features paddle propulsion provided by a steam engine.
The vessel has returned in grand style to the waters of Lake Como, after being laid up for repairs in 2020 due to a breakdown, which lasted several months but has now been fully resolved. A return that sees the steamship take centre stage on this tour of the lake, embarking on a route that leads it from Como to none other than Bellagio, the Pearl of the Lario.
Here, the tour envisages a stop for a couple of hours, during which you can visit the town before boarding again and heading towards Lecco: the arrival point of the steamship but also the departure point of a second vintage train, this time a steam train equipped with Centoporte carriages dating back to the 1930s, which will take the participants back home.
An alternative itinerary: Como-Lecco return journey
Being able to take advantage of two different vintage trains, one electric and the other steam, and a historical steamship is a privilege reserved only for those leaving from Milan and Brianza. But what about the people of Como?
Navigazione Laghi and Fondazione FS have also thought of those who, for whatever reason, are already in Como and still wish to take advantage of the opportunity to travel on steam trains and historical ships, starting from right there. An alternative route has been devised for them, opposite to the previous one.
The departure, by steam train in 1930s Centoporte carriages, is scheduled right from Como, heading to Lecco. From here, in the late afternoon and evening, you can take the Steamship "Concordia" for the return journey to Como.
There will be plenty of excitement on this trip as well. In fact, twilight can be an equally wonderful time for enjoying views of the shoreline at dusk in the soft light of the setting sun.
THE FIRST DATES WILL BE
Blog