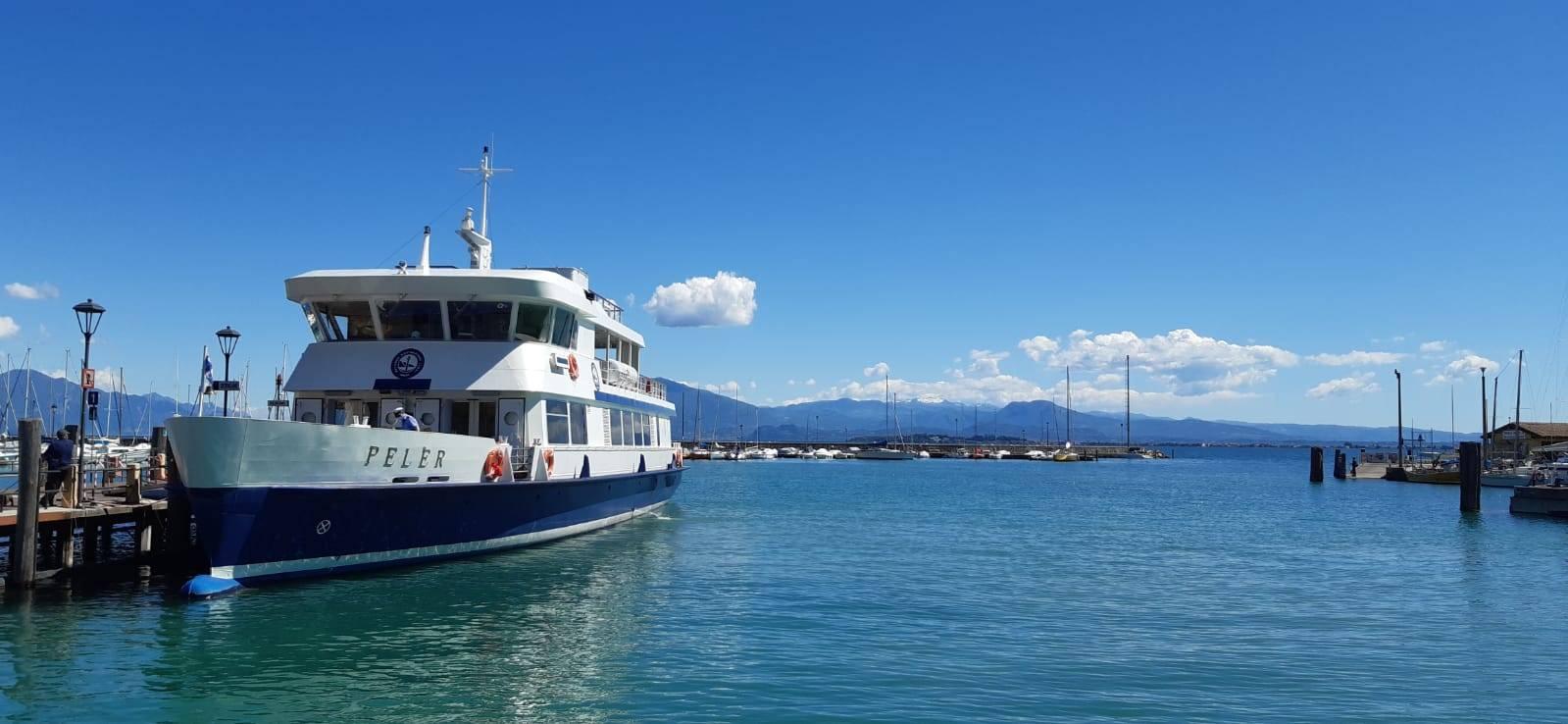 Navigazione Laghi recommends: the best beaches on Lake Garda
Lake Garda
Green & Blue
Let's see the best beaches on Lake Garda with this article that will guide you in the discovery of tropical atmospheres, breathtaking landscapes and sports activities on the most beautiful beaches of Lake Garda.
You know what the problem is with Italy? The sea.
That's a bold, intentionally divisive statement, no doubt about that. Yet just think about summer in the Bel Paese.
As the season draws near, everyone is so focused on trying to find a place in the most popular, overcrowded seaside destinations (e.g., Sardinia, Puglia, Calabria, Sicily, and so on) and searching for the most beautiful seashore in the country, that we often forget about the other large reserve of crystal-clear water in Italy: lakes.
So, head northward up the boot and consider, for a moment, the largest lake in Italy, Lake Garda. Do you know how many beaches it has? And the inestimable variety of panoramas that they offer, with the magic of the Alps and the lush Mediterranean maquis to create a picturesque backdrop?
But sorting through the many beaches of Lake Garda isn't easy.
Which is why, after having sailed the lake that locals call 'Benaco' far and wide for over 60 years, we at Navigazione Laghi wanted to give you a few tips and share our knowledge of Lake Garda's most beautiful beaches. Seeing the variety of options this lake offers, we're sure you'll find the beach that's right for you!
White pebbles and breath-taking landscapes: picture-perfect beaches
The rocks that emerge from its blue water and the small pebbles that blanket its shores are part of what make Lake Garda unique. All of that, framed by the incredible Alpine landscape that surrounds the basin, clearly visible from every corner of the lake.
However, there are even more sights, equally unique and picturesque, that can be admired from just a few places on the lake, at times even while comfortably sitting on one of its famous white pebble beaches.
Jamaica Beach – Sirmione
The Pearl of Lake Garda, Sirmione, is also the location of what just might be the lake's most famous beach. At the cosy Jamaica Beach, it feels like you've been transported to a Caribbean shore, combined, however, with a view of the eternal Grottoes of Catullus, jutting out from the promontory. The view of this ancient Roman villa is truly something special, so special it can even make you forget about the crowds on weekends.
And for those who want to avoid traffic and the headache of having to find parking, just take the train to Desenzano, then hop on the Navigarda ferry that will take you straight to Sirmione. From there, you can reach the beach on foot!
Pisenze beach – Manerba sul Garda
Pisenze beach  can be reached on foot, walking on the small pebbles or on the rocky crags. This beautiful north-facing beach is part of a small bay, where sailing is prohibited, poised between green vegetation and the blue water of the lake.  From there, looking up, you can admire the Rocca di Manerba, a sort of fortress, and enjoy the charming panorama of the lake.
Fonte Torrente San Giovanni – Limone sul Garda
What exactly does one of the most beautiful destinations on Lake Garda have to offer? White pebbles against a verdant backdrop and the spectacular lake, all to be admired as you stroll along the lake-front road or relaxing in the countless kiosks, cafés, bars and restaurants that dot the beach.
Not just pebbles: sandy beaches on Lake Garda
Is the one thing that's making you hesitate, as you compare the sea and the lake, at this point, the much sought-after sand on which to lie for some healthy summer relaxation? Well, you're in luck, because Lake Garda has that too, with fine sand beaches that are true gems.
White Bay – Manerba del Garda
A little slice of paradise, whose sand was imported directly from the Caribbean. The tropical feel of this beach goes perfectly with the exceptional view of the lake's calm water and the large, open, well-equipped establishments on the shore, where you can enjoy a day at the lake.
Golden beach – Desenzano sul Garda
For this next beach, we'll stay on the Brescia side, but change the colour of the sand: here, the lake's shore takes on a beautiful golden-yellow hue, just as its name suggests ('Golden Beach' in Italian). What to expect from Spiaggia d'Oro? An exceptional view of the lake, warm air and crystal-clear water.
Oak beach – Lazise
Now we'll head over to the Veneto side to enjoy one of the largest sandy beaches on Lake Garda. Its name, 'Oak Beach', comes from the presence of many trees, mainly oaks, which provide convenient shaded areas that are ideal places to cool down on hot summer days.
Three sports to play on the beaches of Lake Garda
Now that we've relaxed, enjoying the beautiful view of the lake, it's time for a bit of sport. So, we've come up with a list of beaches that are particularly loved by sporty types, so you can see how you stack up and spend a few hours having fun.
Fasano waterfront – Gardone di Riviera
We'll start our lakeside sport session by organising a game of beach volleyball on a public beach that has all the features you could ask for, and which also happens to be famous for its crystal-clear water. The water at Lido di Fasano is perfect for cooling down after a game of beach volleyball under the warm Garda sun.
Pine beach – Riva del Garda
Now we'll head over to the Trentino side of Lake Garda, to the warm yet breezy 'Pine Beach', a favourite of young people who love windsurfing. Between one outing and the next, you can always relax a bit, surrounded by verdant nature. That's right, this beach even has pine trees!
Lizard beach– Torbole
Now we'll visit another beach on the Trentino shore.  The only problem with Spiaggia delle Lucertole (Lizard Beach) is the rocky cliff that borders this part of the lake. A problem to some, but a dream to anyone who loves nature and rock climbing.
Quiet relaxation or a beach party? The choice is yours!
We'll wrap up our list of  the best beaches on Lake Garda with two rather unique beaches. They couldn't be more different, but they're equally loved by visitors.
Punta Sgrò – Sirmione
Let's head back to Sirmione, on the Brescia side. But instead of walking over to crowded Jamaica Beach, we'll go straight to a charming beach surrounded by nature, where calm, silence and tranquillity make sure your time here is relaxing, bringing true peace to all the senses.
Bracco Baldo Beach – Peschiera del Garda
Many beaches on Lake Garda welcome our four-legged friends. One favourite pet-friendly slice of shoreline is Bracco Baldo Beach. Gated, with an area where dogs can play, run and socialise, this beach offers services just for pets, such as dog sunbeds, special showers and abundant fresh water bowls.
Lake Garda is just the start: other lakeside beaches recommended by Navigazione Laghi
This summer, forget about the sea. As you've seen, lakes have even more to offer. And, once you've visited all the beaches on Lake Garda, you're just a stone's throw from the other incredible lakes of northern Italy: Lake Maggiore and Lake Como.
Navigazione Laghi operates there too and, for that reason, we're just the experts to recommend the best beaches on Lake Maggiore and the most popular shores of Lake Como.
But for now, we have just one bit of advice: keep exploring!
To stay up to date, subscribe to the newsletter and don't forget to follow us on facebook!
Blog