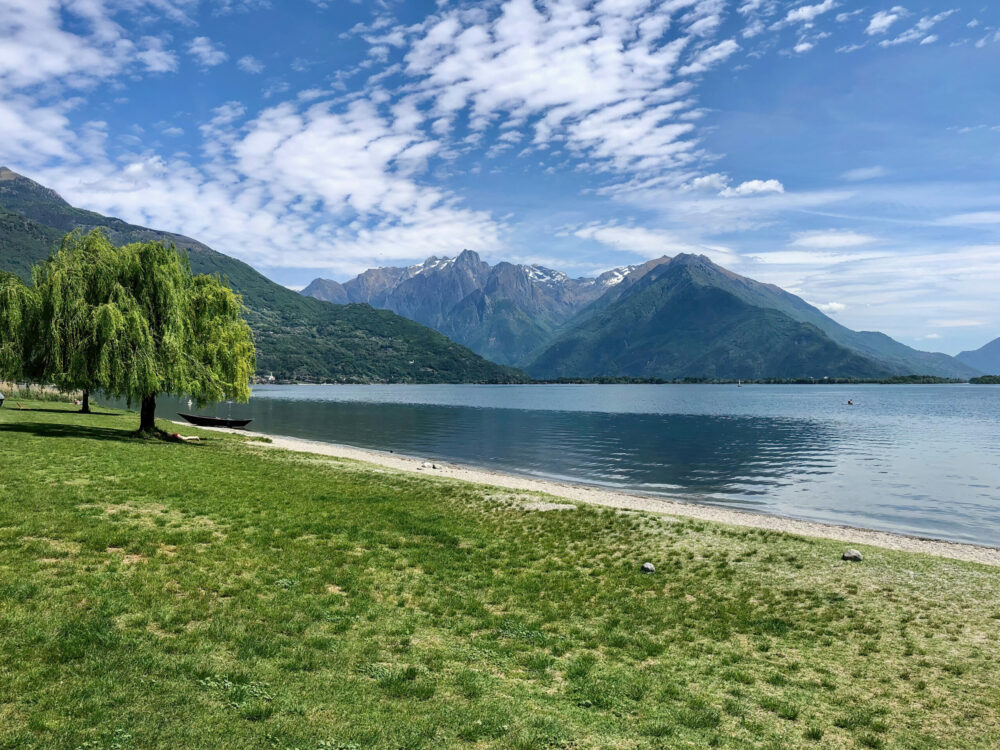 Navigazione Laghi recommends: the best beaches on Lake Como
Lake Como
Out for…
Enchanting landscapes and water sports that mustn't be missed on the shores of the 'most beautiful lake in the world'
'Beyond all question, this is the most voluptuous scene we have yet looked upon. Last night the scenery was striking and picturesque. On the other side crags and trees and snowy houses were reflected in the lake with a wonderful distinctness, and streams of light from many a distant window shot far abroad over the still waters.'
In 1869, the famous American author Mark Twain enthusiastically described Lake Como. Almost a century and a half later, in 2014, web magazine The Huffington Post voted the same body of water the 'most beautiful lake in the world'.
Its beauty comes not just from its mild climate, breath-taking scenery, old villas that look out onto the majestic water, and lush natural surroundings. What makes Lake Como truly special can be found in the area that connects all these elements, uniting the water with the land: its shores.
Shores that boast an impressive 170 km of beaches, ready to welcome visitors from every part of the world, whether they're seeking sand or pebbles, wind or a bit of peace and quiet for a few days of relaxation.
The beaches of 'Lario', as the locals call it, offer all that and more. And to get to know the allure of this or that beach, it's best to rely on those who know Lake Como well.
Which is why we at Navigazione Laghi, having sailed Lake Como for over 60 years with our motorboats, have decided to create a list of beaches to visit so that you too can experience the intoxicating emotions described by Twain.
Como beaches, surrounded by pristine, wild nature
Like we said, one of the things people love most about Lake Como is the view of the exquisite villas that look out over the water. They also happen to have some of the most well-kept botanical gardens in the area.
Heading down to the water's edge, however, there are also areas where the vegetation is still wild and pure. For your day on the shore, choose a beach surrounded by greenery, ideal for those who love to be in touch with nature.
Riva Bianca beach- Lierna (LC)
In Lierna, on the eastern side of the lake, is the beach of Riva Bianca. With its crystal-clear water, white pebbles and large meadows, nestled amid a natural amphitheatre with a breath-taking view, nature rules supreme.
Bellagio (LC) beach
Even Bellagio has a public beach, free of private beach facilities and businesses, which can only be reached on foot. The lush vegetation and thriving plants make it a place to go to find perfect harmony with nature.
And if you want to leave your automobile at home, remember that Bellagio can be reached by our ferries too. Just a 20 minute walk surrounded by the beauty of the 'Pearl of Lario', and you'll reach this wonderful beach.
Onno (LC) beach
One of the lake's most popular pebble beaches is located in Onno. Whether it's because of of the lush vegetation that surrounds it (which is also appreciated by four-legged friends, who are welcome here), or because of the crystal-clear water and the sun that shines here from early morning, it's a favourite of locals and visitors alike.
Water, fish and wind for a bit of sport
Lake Como is also a favourite destination of those who love water sports. Its windiest beaches are the ideal place to unfurl your sails, and the water here is full of fish to admire and try to catch.
Colico (LC) beach
Wind and currents make the large, grassy shore at Colico the ideal destination for anyone who loves windsurfing, kitesurfing, sailing and paragliding.
Domaso (CO) beach
Another beach that's perfect for windsurfers and kitesurfers is on the upper part of the lake, in Domaso, which owes its vocation to the Breva, the local wind that picks up in the afternoon. The grass and gravel ground and the trees, which provide pleasant, restful shade, also welcome all those who wish to enjoy a bit of relaxation in the morning, when the wind is still gentle.
Cadenabbia (CO) waterfront
In local dialect, the name of this beach means 'home of the boatmen', which alone lets you know that it's the perfect place for amateur and competitive fishing, all while relaxing on the comfortable sunbeds of the private beach facility between one catch and the next.
Argegno (CO) waterfront
Fishing is once again the star at this public beach, with light pebbles and crystal-clear water that's ideal for swimming and even scuba diving.
Sorico (CO) waterfront
For this next location, we'll stay on the Como side, but head a bit north. Here, a large, wide beach welcomes expert scuba divers, swimmers and fishermen, drawn by the deep water near the northernmost part of the lake.
Families, children and fans of camping: Lake Como has just the place for you!
Leaving the wilderness and the fearless challenges on water to more daring sportsmen and women, Lake Como also has calmer beaches, with shade and private beach facilities, which are perfect for all types of tourists: from families with children to those who love camping.
Both groups require specific services and spaces, so the beaches designed just for them are much appreciated and quite popular. In this regard, Lake Como is among the best in northern Italy.
Menaggio (CO) waterfront
Considered the most panoramic place on the lake thanks to its elevated position, Menaggio also has a free sandy beach that's perfect for camping. In the rockier area, characterised by tall crags, on the other hand, the city has private beach establishments and nightlife locales.
Lenno (CO) beach
Another tried-and-true destination for campers is the beach at Lenno, just below the promontory where Villa del Balbinello stands. This unique position means that the beach offers both a zone with fine sand, perfect for camping, and an area with pebbles and rocks, which is complete with private beach facilities, restaurants and bar-cafés.
Pradello (LC) beach
Welcoming families on holiday, with large meadows that have play areas for children, and with pebbly areas where teens tend to gather, is the small beach of Pradello, just a few kilometres from Lecco.
Dongo (CO) beach
In Dongo, on the northwest part of the lake, on the other hand, that which is the biggest draw for families (in addition to the clear water and the grassy ground of the beach) are the many shaded areas, which offer a cool place to rest during hotter times of day, even for little ones.
Lake Como is just the start: other lakeside beaches recommended by Navigazione Laghi
This summer, forget about the sea. As you've seen, lakes have even more to offer. And, once you've visited all the beaches on Lake Como, you're just a stone's throw from the other incredible lakes of northern Italy: Lake Maggiore and Lake Garda.
Navigazione Laghi operates there too and, for that reason, we're just the experts to recommend the best beaches on Lake Maggiore and the most popular shores of Lake Garda.
But for now, we have just one bit of advice: keep exploring!
To stay up to date, subscribe to the newsletter and don't forget to follow us on facebook!
Blog