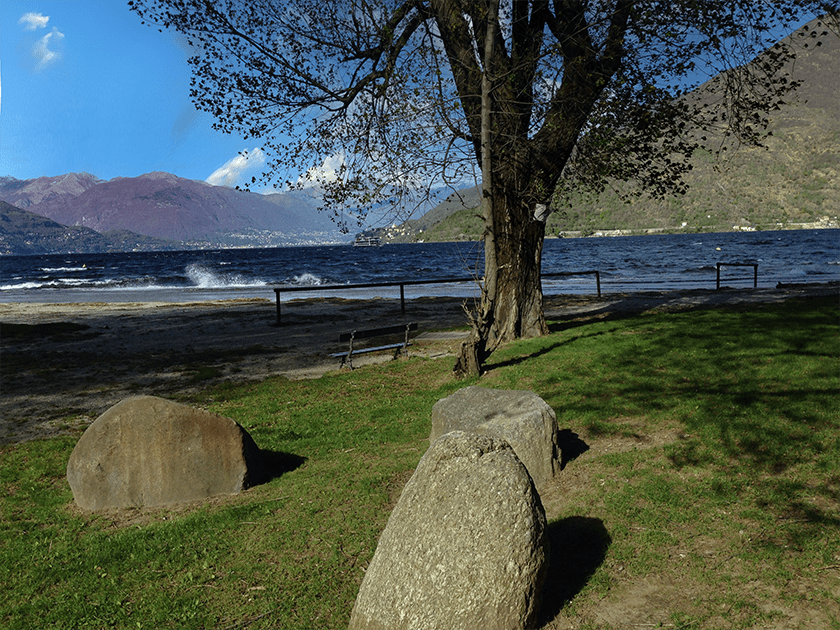 Navigazione Laghi recommends: the best beaches on Lake Maggiore
Lake Maggiore
Out for…
Sun, sport and relaxation: Lake Maggiore is the ideal holiday destination for children and adults
Very narrow and very long, Lake Maggiore marks the boundary between Piedmont and Lombardy, and extends up all the way to Switzerland.
This unique position makes it a favourite destination among those who, regardless of the side they're from, don't want or can't afford to head out on a long journey all the way to Liguria (the nearest, often-overcrowded coast) to enjoy a day of sun, relaxation and refreshing dips in the water.
The alternative to the sea is thus the second biggest lake in Italy: it's no less beautiful than the other lakes in the north and even rivals the scenery of Italy's coastline.
Which is why, in this blog post, we've decided to recommend of the best beaches on Lake Maggiore, where you can spend a lovely day out of town, relaxing or, for more adventurous readers, enjoying different water sports.
The eastern shore: the best beaches for families with children
Shaded areas, playgrounds for children and convenient amenities: that's exactly what families with children are looking for when they head to the beaches of Lake Maggiore.
So, let's take a look at the three best beaches on Lake 'Verbano' for those looking for quality family time!
Parco Giona beach – Maccagno
One of the largest beaches on Lake Maggiore is found close to the Swiss border. It's quite popular among families with children thanks to the many services it offers: from plenty of parking to tall plants, which create sought-after shade during hotter times of day, up to the area with parasol/sunbed rentals, cafés, restaurants, and sports pitches. This family-friendly beach wouldn't be complete without a picnic area and a playground just for little ones. And while the children are playing, the adults can admire the Castelli di Cannero, on the western (Piedmont) side, right in front of the beach.
Guree Beach – Monvalle
Travelling south along the eastern (Lombardy) side we'll get to Monvalle, where a beach that's mostly sandy, with amenities and a comfortable, large, free car park welcomes families on holiday. But that which you'll appreciate most are the large shaded areas created by the plants found on the beach, and the water: because it's quite shallow for a few metres from shore, even little ones can safely play in the lake.
Lido La Noce beach – Angera
One of the beaches that families appreciate most is found at the end of the Lungolago di Angera, very close to the old town. Here, you have a choice between the public and private part of the beach. The latter is complete with play areas for children and access for people with disabilities.
The eastern shore: peace, relaxation and pristine nature
The shore on the Lombardy side of Lake Maggiore isn't just for people with children. It also offers beaches that, though a bit harder to reach (and perhaps for that very reason), are perfect for anyone who wants to escape the commotion that young beach-goers might make.
Fornaci beach – Ispra
Within the area of the town's old fornaci (ovens), is the perfect place for those seeking peace and quiet. Here, industrial archaeological ruins intermingle with uncontaminated nature to create a unique landscape that frames the different beaches on the lake and the mountain that plunges straight into its clear water.
Ca Bianca, Varesella, Belmonte and Tri Sgaritt beaches – Brezzo di Bedero
Limited space on the beach, no real place to park on the road and an enchanting view of Lake Maggiore: three characteristics ensure that these four white pebble shores, small hidden treasures, are rarely crowded. Just settle in, close your eyes, and enjoy the day.
Ceresolo waterfront – Laveno Mombello
'German beach' gets its name from the fact that, even though very few tourists head here, the ones that do usually seem to be from Germany. No matter where you're from, it's a true bit of paradise on Earth, from the crystal-clear water to the fine sand. Small, relatively unknown and without amenities, it can only be accessed by a dirt track, making this beach ideal for those seeking absolute peace and relaxation.
The western shore: private beach facilities for maximum comfort
The beaches on the western (Piedmont) side of Lake Maggiore are every bit as wonderful as their Lombardian counterparts. Here, private beach facilities offer visitors everything they need to enjoy a day of sun, without a care in the world.
Cicognola beach – Castelletto Ticino
Sand, beach umbrellas, showers and sunbeds abound at this small beach, where nearby trees offer shade on hot, sunny days. The large car park, a shopping area with shops and supermarkets, and the nearby campsite make it perfect for families and stays that last a few days.
The beaches of Dormelletto – Hamlets of La Rotta and Pirolino
In this area, loved by tourists, you can choose between two private beach facilities with complete services. In La Rotta, umbrellas and a café are enhanced by a jetty, so that visitors can go for a stroll surrounded by the clear water of the lake and its always-enchanting scenery. On the other hand, the beach in the hamlet of Pirolino, complete with a café and umbrellas and sunbeds to rent, is the perfect backdrop for a day spent relaxing. It also has a beach volleyball pitch that's a favourite among sporty types.
Scivolo Galli – Meina
Once again, visitors can rent sunbeds and umbrellas, and there's even a kiosk with food and drinks.  This sandy beach is part of a green park that once belonged to the nearby Villa Galli. Nothing beats it for an aperitif on the shore of the lake, with a view of the Rocca di Arona.
The western shore: a sporty destination for youths
For those whose idea of relaxation involves a healthy dose of staying active, the western (Piedmont) side of Lake Maggiore offers the chance to enjoy a bit of sport and games suitable for all ages.
Arona waterfront – Arona
Fun for the whole family on the public beach in Arona. A stone's throw from the old town, it offers sunbeds and umbrellas, and even a playground for little beach-goers, a floating platform that's always a favourite of teens, and the option to rent paddle boats and kayaks for a spin about the lake.
Cannobio waterfront – Cannobio
The most famous beach on Lake Maggiore owes its popularity to its charming setting, plenty of room for beach-goers, and a breeze that brings relief on hot days and gives a boost to sportsmen and women struggling with sails and other equipment. This beach is in fact popular among those who want to kitesurf, windsurf or head out in a catamaran.
Cannobio can easily be reached with our boats (you can consult the timetable here) and, from the pier, you can reach the beach in under 5 minutes on foot!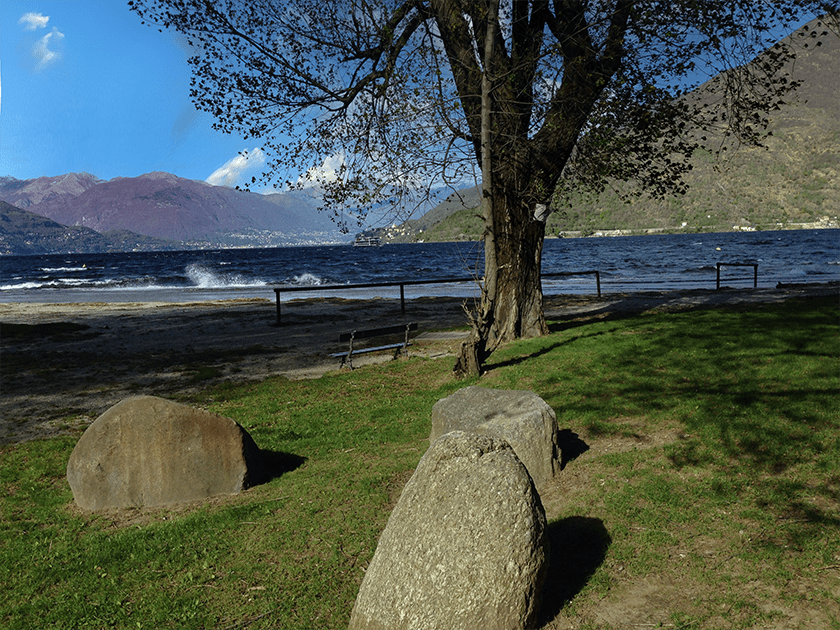 Meina waterfront – Meina
Unlike Scivolo Galli, which is ideal for a more traditional holiday, this second beach in Meina offers a very different but equally popular setting, especially with sportsmen and younger tourists, thanks to the presence of tennis pitches and pools for adults and children.
Lake Maggiore is just the start: other lakeside beaches recommended by Navigazione Laghi
This summer, forget about the sea. As you've seen, lakes have even more to offer. And, once you've visited all the beaches on Lake Maggiore, you're just a stone's throw from the other incredible lakes of northern Italy: Lake Garda and Lake Como.
Navigazione Laghi operates there too and, for that reason, we're just the experts to recommend the best beaches on Lake Garda and the most popular shores of Lake Como.
But for now, we have just one bit of advice: keep exploring!
To stay up to date, subscribe to the newsletter and don't forget to follow us on facebook!
Blog