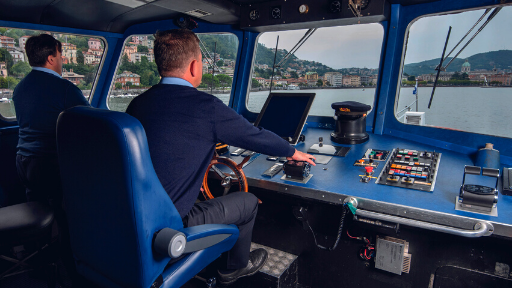 Flying on water really seems possible
Lake Como
Highlights
Out for…
The fleet of the Lake Como includes 4 powerful hydrofoils that are able to reach speeds of up to 34 knots.
The feeling of flying on water at speeds of up to 34 knots (about 60 km/h). This is what the experience of traveling on the hydrofoils of Navigazione Lago di Como gives. Two RHS 150 models and as many of the RHS 150 FL model, respectively, the "Freccia delle Valli", the "Guglielmo Marconi" (re-engined in recently) and the Voloire and Lord Byron hydrofoils.
The means of transport are able to carry out the fast service activity thanks to their particular hydrodynamic characteristics.
Unlike the other conventional naval units of the fleet, they are able to exceed 30 knots of speed, skimming the surface of the lake thanks to two large wing profiles placed under the hull which are able to support the entire vessel above the free surface of the water.
This feature is not the only one in common with aircraft:
As a matter of fact, the hydrofoils, in addition to being made with entirely riveted aeronautical aluminum, have real flaps and bow and stern ship's wheels incorporated in the wing profiles. In the past, Navigazione Lago di Como could count on 6 hydrofoils: in addition to the already mentioned, there were in fact three smaller units, the so-called "small hydrofoils" model RHS 70, evolution of the older PT 20.
The last example of these is kept in the "Lariana boat museum" in Pianello del Lario.
All the hydrofoils that have crossed the waters of Lake Como find their origins in Messina, in the shipyard called Rodriquez, a mainstay of the development and production of hydrofoils in Italy and in the world.
Blog
Buy now
Experiences
designed for you
See all