3 LAKES TRAVEL CARD: THROUGH ITALY AND SWITZERLAND DISCOVERING THE LAKES AREA
Travelling through Italy and Switzerland to discover the Lakes area with the "3 lakes travel card".
A single travel document, at a special fare, to sail on the lakes Maggiore, Lugano and Como, to enjoy  wonderful views, charming locations, reaching over 110 destinations to visit characteristic villages, places rich of history and art and to appreciate the landscape and architectural beauties that offer timeless glimpses.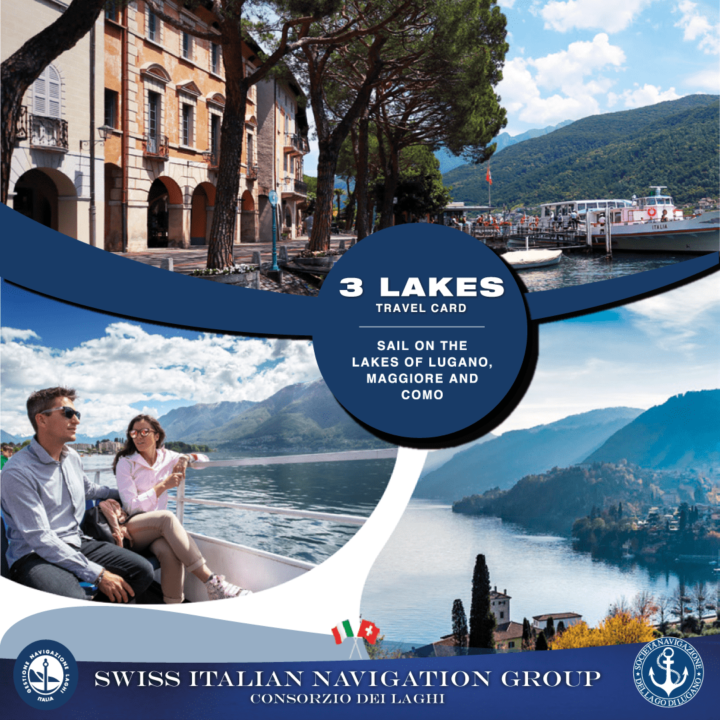 WHAT TO BE KNOWN
The new ticket can only be purchased at all land-based ticket offices of Navigazione Laghi Maggiore and Como and at the SNL land-based ticket offices of the Lake Lugano  and of the Swiss basin of Lake Maggiore.
– It is an offer valid throughout the summer, until 8th October 2023;
– It allows you to explore all three lakes  by the Navigazione Laghi and Società Navigazione Lago di Lugano services;
– The ticket can be used only once on each lake and it is valid for a whole day;
– It is possible to visit the three lakes on different days from 1st August to 8th October 2023;
– As this is a free circulation ticket, all routes are included.
More info
In the Swiss basin of Lake Maggiore, SNL journeys from no. 101 to no. 126 and on Lake Lugano the routes from no. 70 to no. 79 are excluded. With regard to Lake Como, the use of fast rides is subject to verification of seat availability and to the purchase of the supplement at the ground ticket office.
Prices
It is a travel pass at a special fare of €84.00 for adults and €42.00 for children (6-11 years).
Contacts
Blog